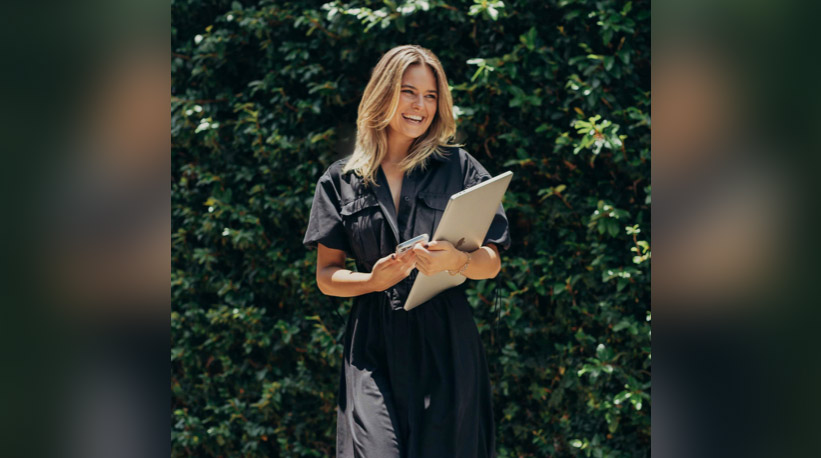 You might recognise this familiar face as Cove's Ex Community Assistant, aka our go to girl for all things here at The Cove. After leaving us last year to transition back into the PR industry, Cass has come full circle and joined us back here at The Cove, this time as a member with exciting new business plans on the horizon. Today we're chatting with Cass about her journey to launching Brisbane's newest PR Agency – EPRA.
You've been on quite a journey over the past few years from community manager to PR exec… tell us where did it all start?
I originally found myself at The Cove after first entering the PR industry as a Junior Account & PR Executive and couldn't have been luckier to work from such a comfortable, welcoming space. I loved the role I had, and after some time I organically fell into a position working behind the scenes at The Cove and as a right-hand man to Director, Courtney Norris, who taught me so much more than I ever expected. Covering marketing aspects with her other businesses, while being a friendly face to the members working at The Cove, was a mix that I needed at the time and taught me how to slow down and balance life more. I was then asked to be Senior PR Executive at a slightly larger Brisbane-based agency, which was a great transition back into the PR field - there was honestly no better feeling than being back in the industry I'm most passionate about. After a few incredible learning experiences, I ended up here.
You've recently transitioned from agency life to starting your own business… what motivated you to make such a big change?
Funnily enough, I've always strongly opposed working for myself or starting my own business. From an extremely young age, I always had a 5-year plan. I knew exactly what I wanted for my future and how I planned to get there. Being a natural stress head, I had believed working with my own finances, business growth & profitability would be too overwhelming. However, I'm extremely passionate and genuinely care deeply for my client's outcomes (and shamelessly love being in control wherever possible). Which proved to be a challenge when working for other agencies, as I wanted to be able to push the boundaries and listen to exactly what my clients wanted, not just stick to what we do for everyone else. I had been weighing up my options, and the PR agencies I had been working towards as part of my future plan all led me to Sydney, which I uncomfortably decided was no longer where I wanted to be. So, one thing led to another, and EPRA just, well… happened, and it has already been the best decision I have ever made. I'm lucky to have incredible people around me and could clearly see how my business would now fit into my future, which was all I needed to take the plunge.
Brisbane is bustling with PR agencies, what makes Ellis PR Agency unique?
There is definitely an abundance of incredible PR agencies in Brisbane, and in full transparency, it was a major deterrent for me. The last thing I wanted was to step on toes, (especially personally knowing a lot of the directors of local bespoke agencies), nor did I want to add to the overwhelm for local influencers or publications. However, as very briefly mentioned, the major PR agencies that I personally aligned with and was always striving to work for were all based in Sydney and Melbourne. So why not help bring that to Brisbane? I truly believe Brisbane has so much underestimated potential, and we deserve to speak on behalf of Australia, too. So, in light of this, EPRA doesn't aim to just compete for local businesses, we want to add to the voice of the Australian PR & social media landscape and eventually take on major local and international brands, all from this beautiful city. Big ambitions, I know… but as it's said, the harder you work, the luckier you get.
Starting your own business comes with its fair share of challenges! What has been the most difficult part so far?
I'm lucky to have had some runway to get EPRA up and running at my own pace, which has definitely reduced major pressures. However, getting my head around general business processes is something I had to wrap my head around but utilising the right people and resources helps dramatically. I'm also quite a perfectionist and when I can see how I want something done, it's hard passing the buck to someone else. So, branding has also been a unique process, but I've loved every minute.
As we are about to head into FY 22/23, it's a great time to review our goals and set some new milestones. As a new business, what are some major goals you have for EPRA?
I love this question! I'm all about goal setting, and for the first time in my life, I'll be reviewing goals and milestones at the EOFY rather than just at the beginning of a calendar year. Exciting! Being a new business, my main priority is simply establishing the agency and not discounting my services. For the 2023 FY, the goal is to onboard a few key clients I have had my eyes on for a while, clients that I align with and genuinely know I would strongly benefit, rather than scrambling to take on every possible source of income I come across. It's going to be an exciting journey, and I'm ready for all of the challenges ahead.
We've been lucky enough to have you as part of The Cove family for quite some time now! What is your favourite thing about working in a co-working space?
How lucky am I. Honestly, The Cove has been such an important space for me and my favourite thing is the overall comfortability and friendliness.
After moving to Brisbane from a rural town in South Australia, I went from knowing everyone wherever I went, to knowing no one. I've always been a "head down bum up" kind of person, that loves my own company, so I definitely didn't socialise much in my personal life. Yet, The Cove totally took me in. I immediately felt part of something and the community very quickly became my second family.
As you know, we're all about wellness here at The Cove… how do you balance work life x social life?
This has been something I have always struggled with. Now however, with the particular help of a special person in my life, I'm increasingly more aware of how to create this balance and keep weekends free from work where possible. The key for us is getting out of the city and changing our scenery whenever we get the chance, as well as making time for a nice dinner here and there. Making time to move my body and visit the health appointments I always use to neglect is also a big one for me!
We're so excited to follow you along on your new journey… Can you give us a little sneak peek at whats to come for Ellis PR Agency?
Thanks so much for the questions! No sneak peeks from me just yet, but I'll be sure to make some quiet noise soon enough.